AWAJI Cycling, where you should go! Hot Spring/Onsen, "Matsuho-no-Yu"
Onsen, with Great landscape of Akashi Bridge
Matsuho no Yu, One of great Hot Spring in Awaji Island is locating beside of Akashi Bridge. Matsuho no Yu in Googlemap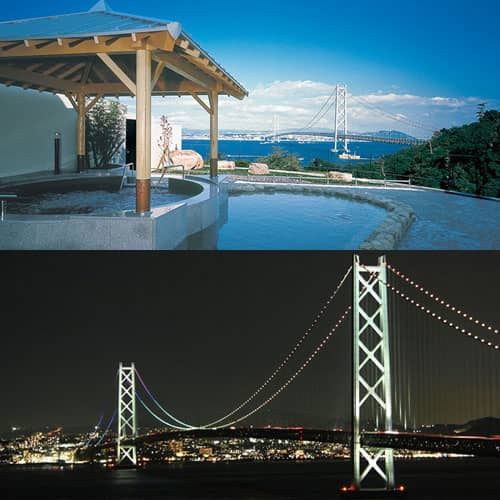 Most stunning points of the hot spring is, you can enjoy the great night landscape of Akashi Bridge, from open air hot spring, with beautifully decorated by LED Light.
But even day time, you can also enjoy the great view of the bridge.
Basic Information of "Matsuho no Yu"
Open from 11:00 to 22:00 (Entry must be done by 21:00).
As you see on the above Googlemap, the facility locating very hilly place for the great view. May be around 100m up from seaside road.
Thus you got to prepare to climb up the steep after your ride!!
Also, the hot spring has huge parking space so if you visit with your car, you can park at their parking space (64 car can be parked).
Drop your bike and finish your ride at there and take hot spring.
But again, please remind you got to climb up the hill after ride!
They also provide free shuttle bus.
The bus stop at Michino Eki Awaji, Awaji Interchange (Highway), Iwaya port (transfer to Akashi Port, main land). Depart every 1hour.
Depart Matsuho no Yu:
11:35、12:35、13:35、14:35、15:35、16:35、17:35
Michi no Eki Awaji:
11:40、12:40、13:40、14:40、15:40、16:40、17:40
Awaji Interchange (Highway Busstop):
11:50、12:50、13:50、14:50、15:50、16:50、17:50
Iwaya port:
12:00、13:00、14:00、15:00、16:00、17:00、18:00
Michi no Eki Awaji:
12:05、13:05、14:05、15:05、16:05、17:05、18:05
Matsuho no Yu:
12:08、13:08、14:08、15:08、16:08、17:08、18:08
How to use, Matsuho no Yu
Before mentioned how to use the facility, please understand most of public bath are rejecting the person who has a tattoo. This is, nonsense at nowadays but anyway, you got to know their old customs.
If your tattoo is small enough to hide by supporter or any cover, please try.
They simply afraid YAKUZA, Japanese mafia people to enter in…
Matsuho no Yu has several type of Bath, such as
Open air Bath, Main Bath, Bubble Bath, Jet water Bath, Beat Bath, Sauna, Cold water Bath….
Sound like U.S.J. or Disney Land??
Yes, you can enjoy long time at there, but be careful for dehydration
(Cold water supply machine available at changing room)!!