Guide for Cycling Around Awaji Island ""AWAICHI""
Awaji Island Cycling is so called "AWAICHI"
Awaji Island is one of the best destinations for bike tours in the Kansai Area.
It has a great landscape including the Gulf of Osaka, many restaurants with fresh ingredients from Awaji Island, a variety of cycling routes and open-armed hospitality of people on the island make for an exciting trip.This is why Awaji Island attracts countless cyclists from around the Kansai region who visit the island to cycle or train even during the winter season.A round-trip ride of Awaji Island is called "AWA-ICHI" which is an abbreviation of the Japanese, "round-trip (bike ride) ofAwaji Island", or "AWAJI-Shima Isshuu ".
The total distance of AWA-ICHI is 150km, with approx. 1500m of total elevation.For the average cyclist, this may take a full day of cycling, while taking several stops to rest and enjoy an Awaji lunch.
For the Official Tourist Cycling map (English Version) can be downloaded from this website, supplied by Awaji tourist association.
In this article we will focus on the route guide, looking at several especially complicated places where it is easy to get lost.The Basic AWA-ICHI starts at the north of the island, IWAYA, one entrance of the island and port where boats connect with the mainland, Kobe/Akashi.(How to reach to Awaji Island by Boat)
The island also can be reached by highway bus from the center of KOBE City, SANNOMIYA Station to IWAYA(How to transfer fm KOBE by Bus) from SANNOMIYA to IWAYA/UZAKI Bus Station is just in front of our Cafe, Circolo.It takes 45 min. & the bus fare is 900yen.

Start cycling from North Awaji Island, IWAYA. Start your ride by going clockwise around the island by following route #28 down to the south."Enjoy the coast-side ride and pass beside Westin Hotel Awaji, then down to HIGASHIURA Town."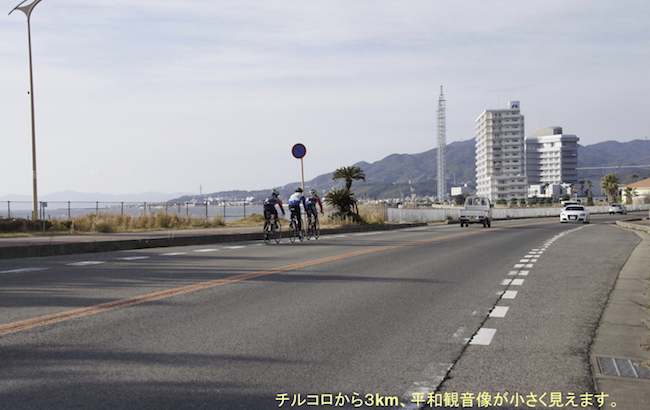 "Be careful about traffic when you pass through the town.
It is not as busy as Osaka or Kobe but please be careful of the local drivers as they do not drive so well.In particular, elderly local drivers may not recognize bicycles well."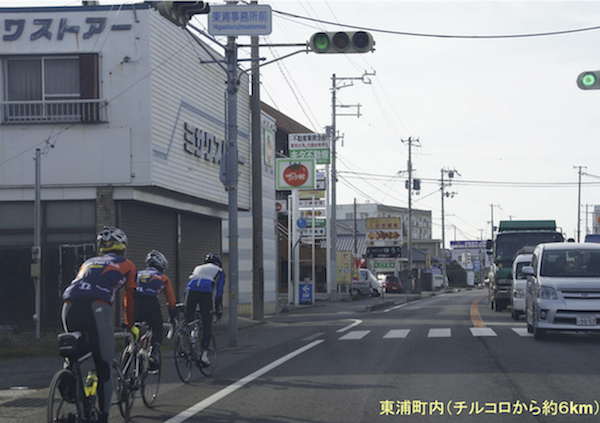 "After riding for 10km, you will reach a funny Buddha statue temple, Heiwa Kannon that is already closed and in ruins."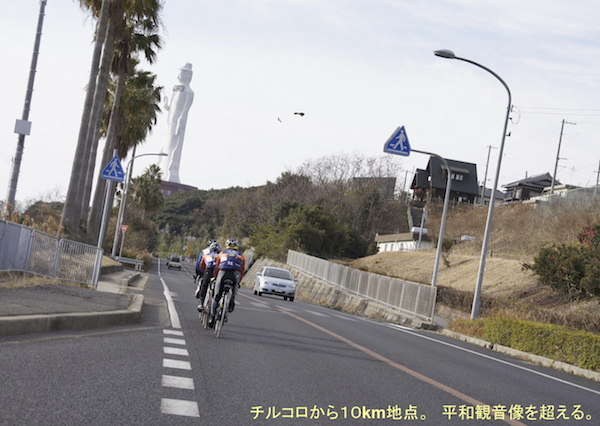 "Soon after you pass the statue, you will come to a fork in the road. Bikes should stay left, the road to the right is the bypass for cars."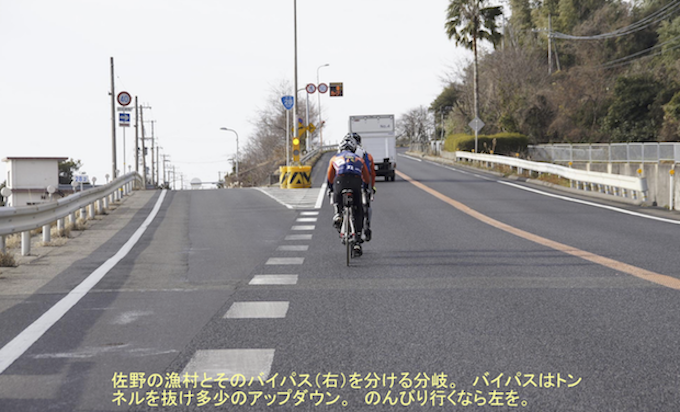 "After you take the road to the left, pass through SANO Town, an old fishing village. After about a 3km-ride through the fishing village, you will meet up again with the car bypass road above. "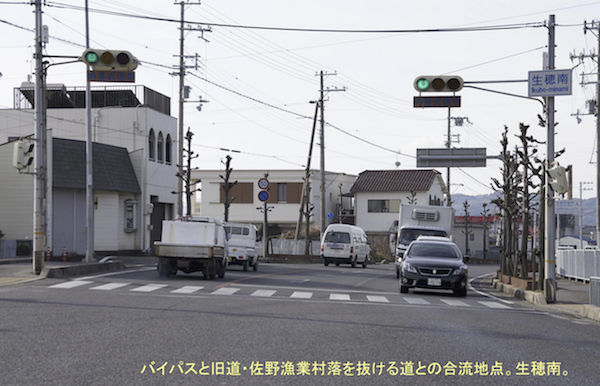 "Then, proceed south through SIZUKI Town, and continue your ride to the center of the island, SUMOTO City."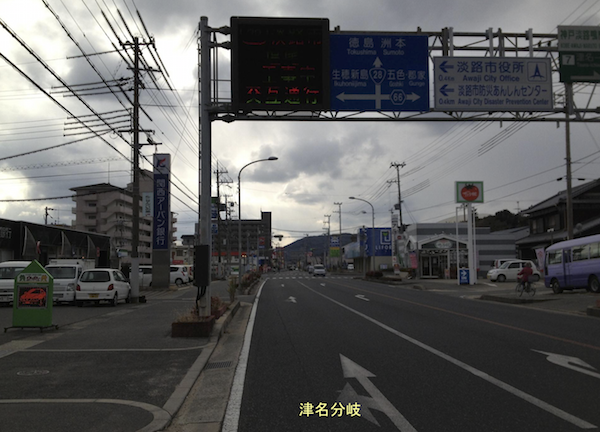 "The entrance to SUMOTO City is ""TAKENOGUCHI North"".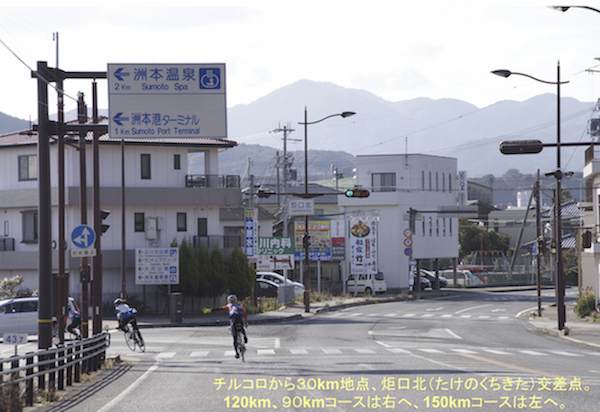 For ""AWAICHI"" take the left pass over the iron bridge (Route #76)."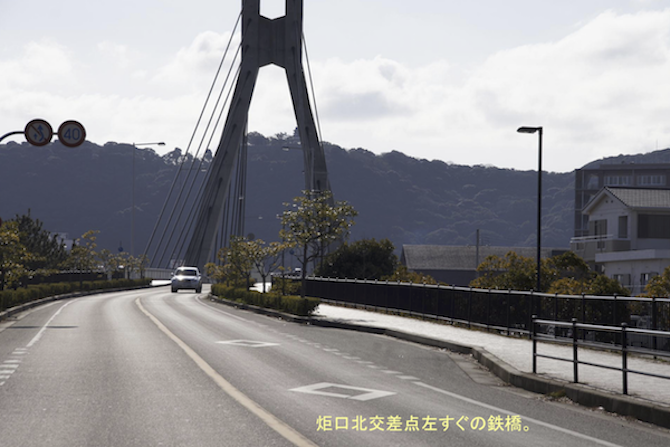 "Soon you will pass "MARUNAKA"" (a big supermarket), and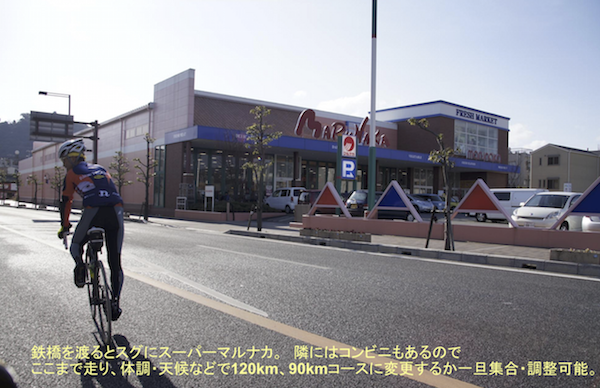 "Pass SUMOTO Onsen (hot spring) town."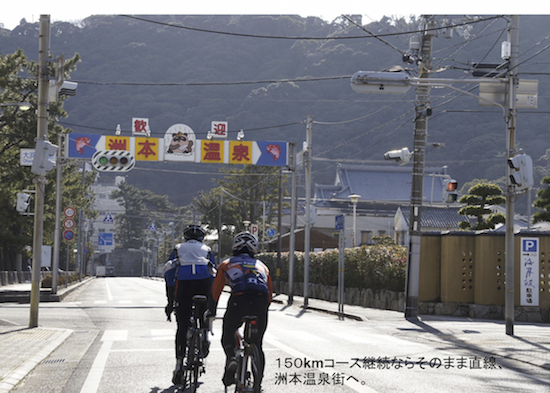 "After about a 3km-ride from ""TAKENOGUHI"" intersection, you will see a convenience store, ""Family Mart," on your left. (see our last blog explain the convenience store""
The convenience store is almost the last store until halfway point, FUKURA Town, at the south of Awaji Island."It is a good idea to take a rest for the first half of the ride.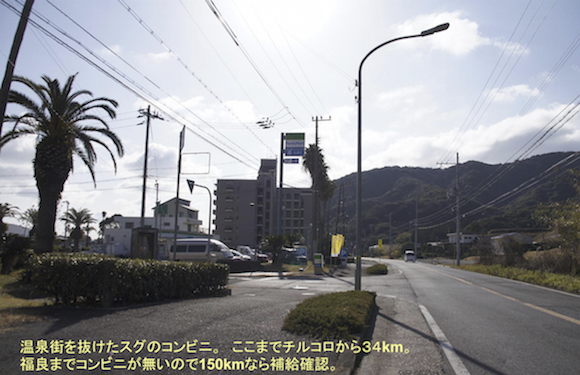 "After about 6km, you will reach to YURA Town, through the entrance gate bridge."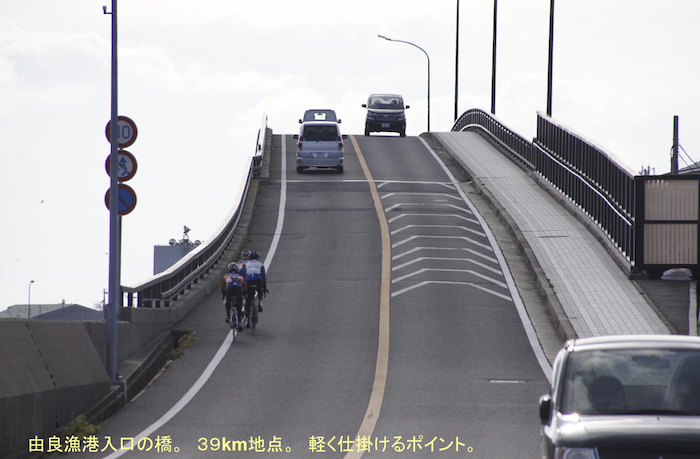 "Passing through the village, you will reach to YURA Junior High School. "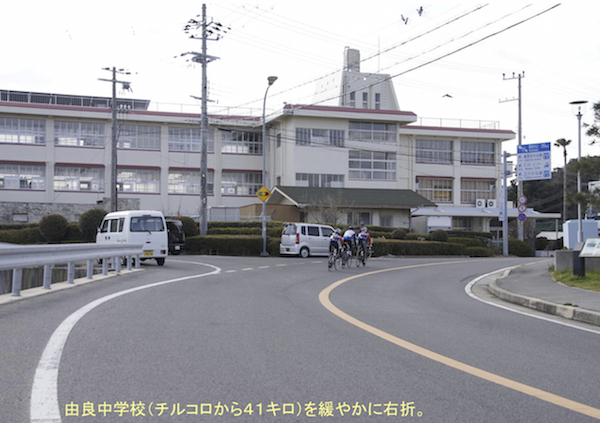 "Turn left at the intersection just past the school to continue your AWAICHI. It is very easy to lose your way here. Please be careful!!!"
"Passing a shipyard you will reach a fork in the road"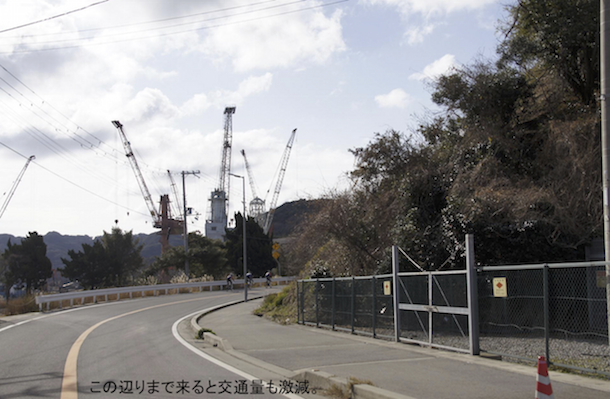 "Take the right toward the hill, ""TACHIKAWA SUISENKYOU"", the highest peak, a climb of around 150m."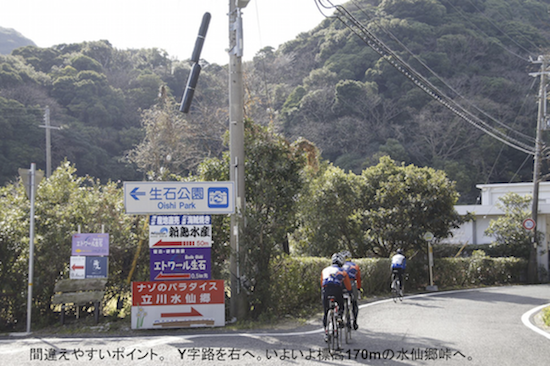 "Descend to the coastal road and you will cycle with a Great view"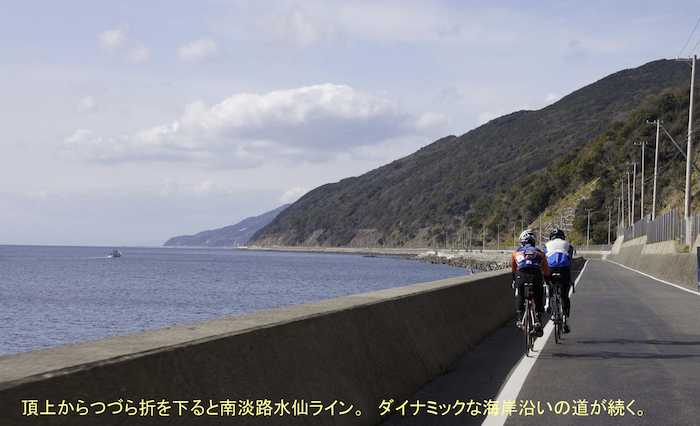 "After about 8km, you will pass through HABU fishing village, the gateway to NUSHIMA Island by boat."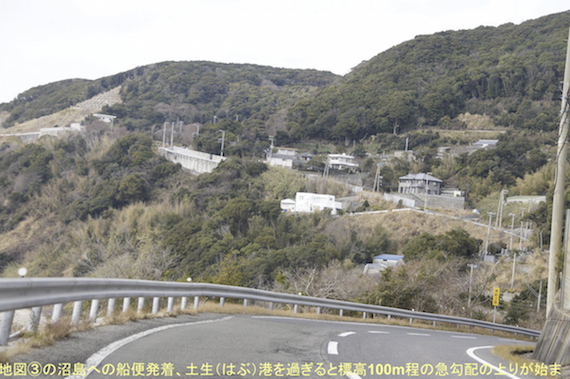 "With Awaji Island on your right side, start the climb up the 100m high steep slope."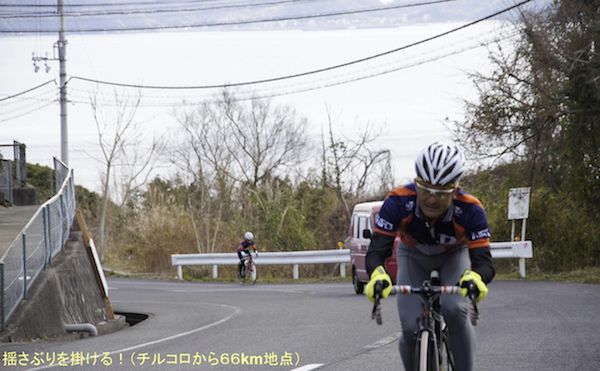 "From the top, ride down to AMA Town. "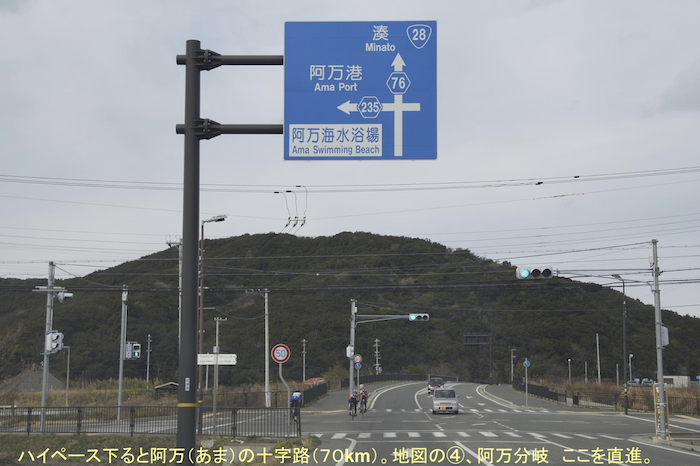 "Please be careful of the point where you have to turn left.
The following picture is the intersection to turn left, Route #25 to FUKURA Town.
Soon you will reach to AMA Terrace, we recommend to have rest in our last blog"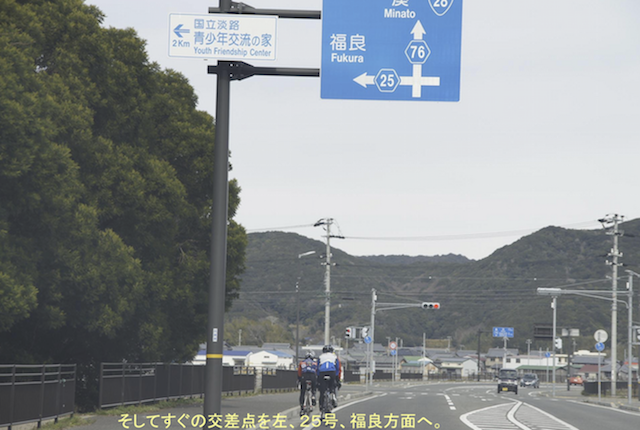 "After around 200m, you will reach a Y-shape intersection. Both ways will take you to FUKURA Town"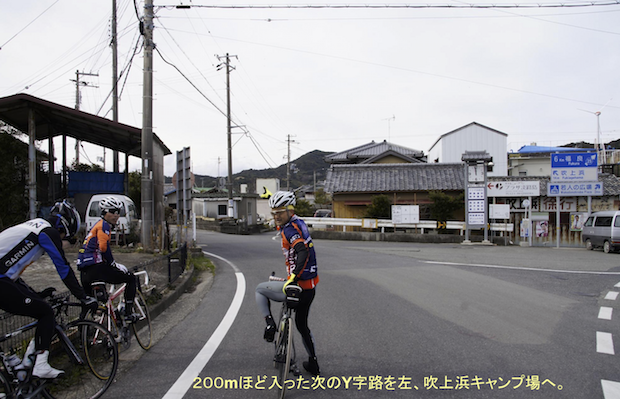 "If you take left road, via FUKIAGE Camping site, you can enjoy a panoramic outlook of the huge NARUTO Bridge toward SHIKOKU Island."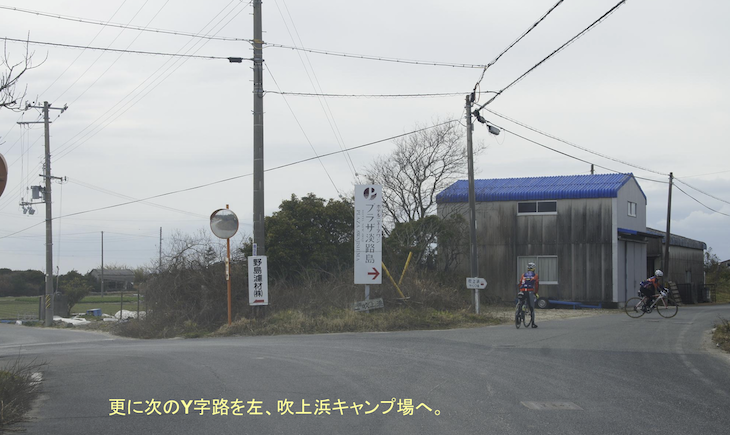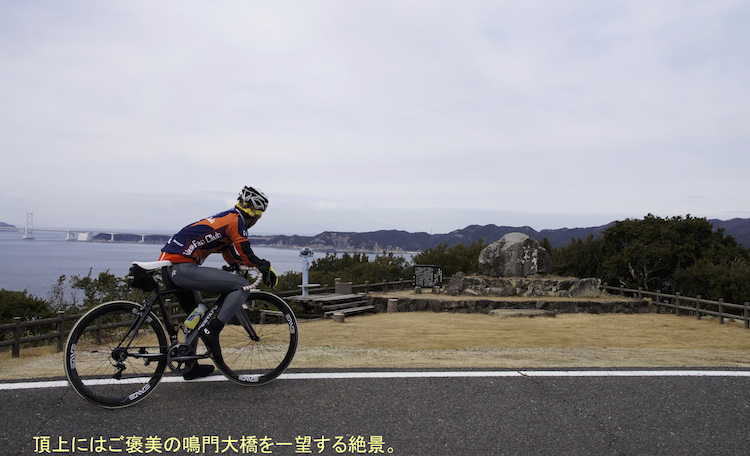 "Enjoy the downhill ride into FUKURA Town, a popular tourist destination and famous for NARUTO Whirlpool Tour or museum of the traditional puppet show, ""NINGYOU-JYOURURI""."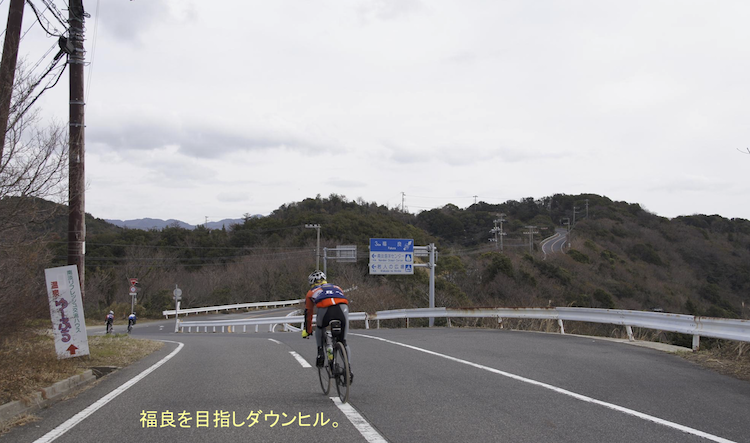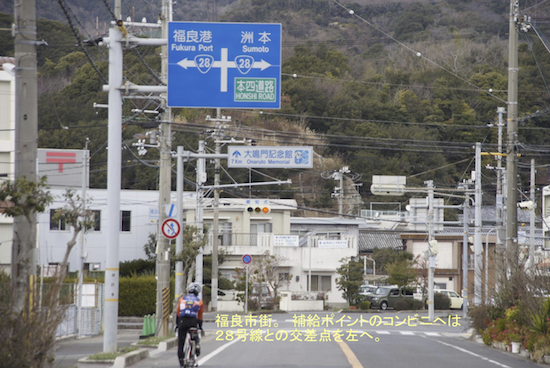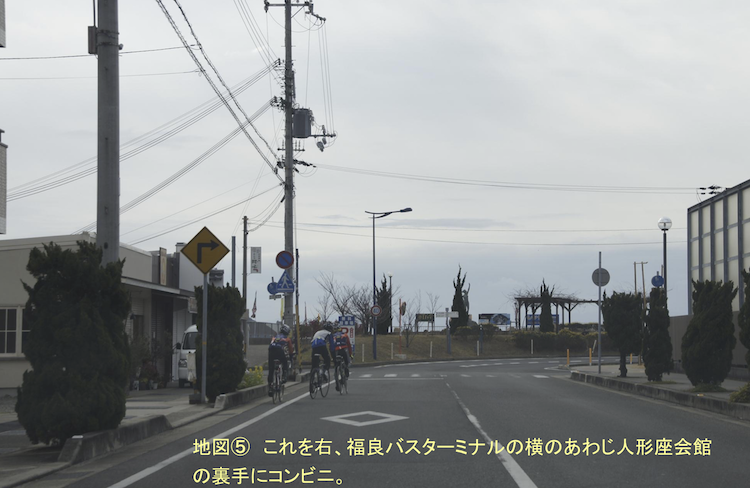 "By this point, you will have ridden around 75km, the half-way point of ""AWAICHI"" Ride.Enjoy the local food, fish or Awaji Pork for your lunch.""Also there is a convenience store there. You can replenish your bottles or gels"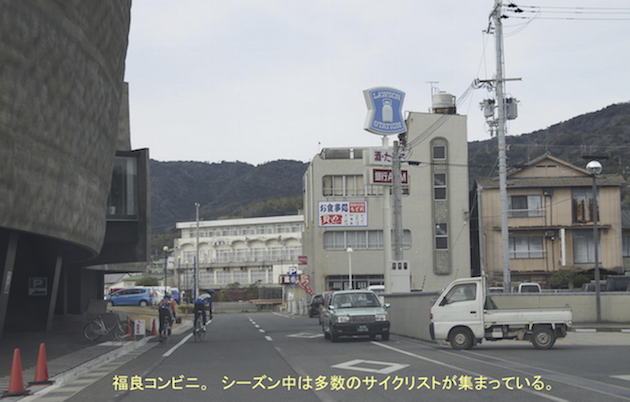 "After you take a rest at these points, take the road along the fishing port.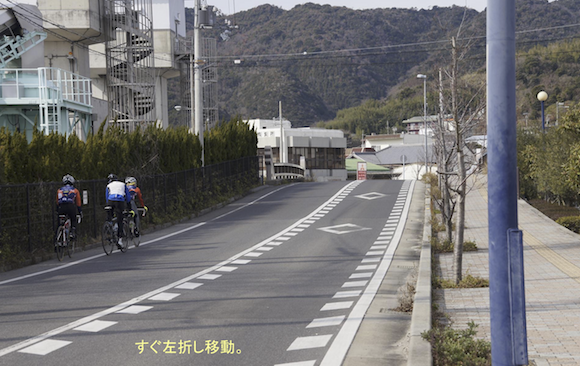 Be careful, there are some complicated points so you may get lost."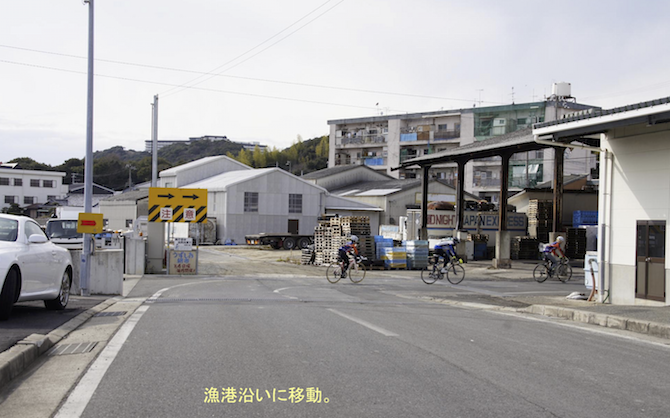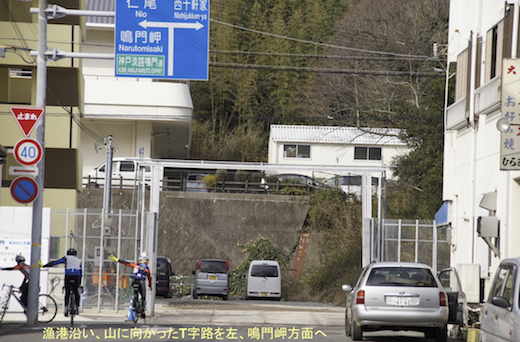 "Passing through the village, you will soon reach a Y-shaped intersection. Take the left (go straight) road."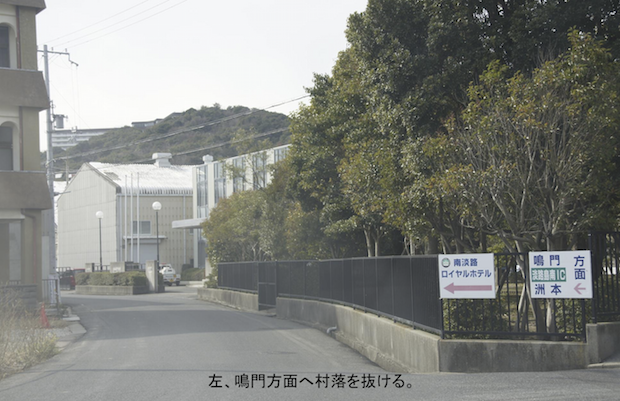 "Then soon you will see the following corner"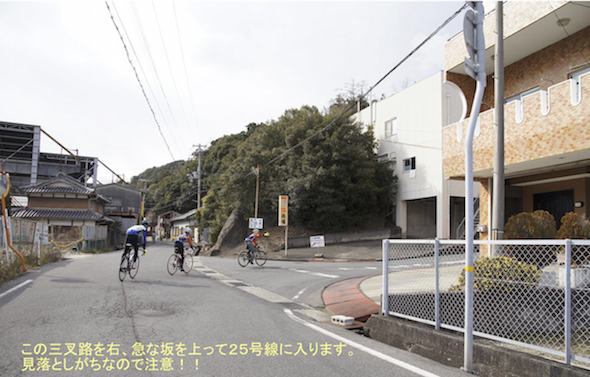 "Turn right and go up the quite steep slope for around 20m, then turn right to keep climbing, heading toward ANAGA town."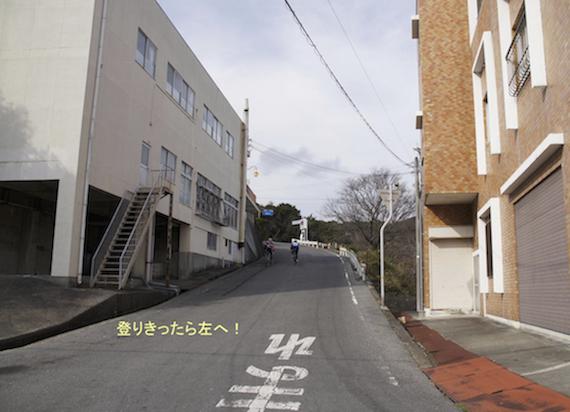 "After several ups & downs, you will reach to the following T-shape intersection"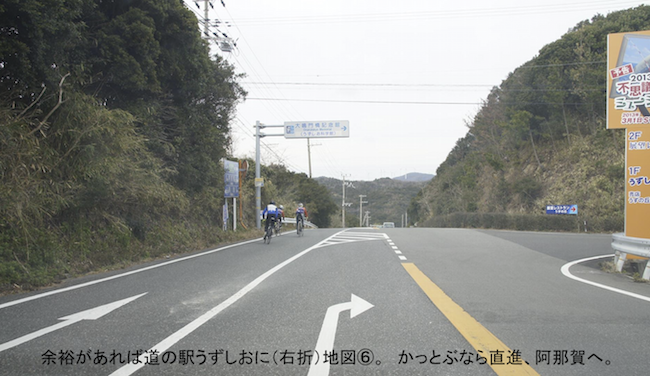 "If you turn right, you can take a short cut. For a full ""AWAICHI"", turn left to MARUYAMA fishing village, which leads to the west side coastal road."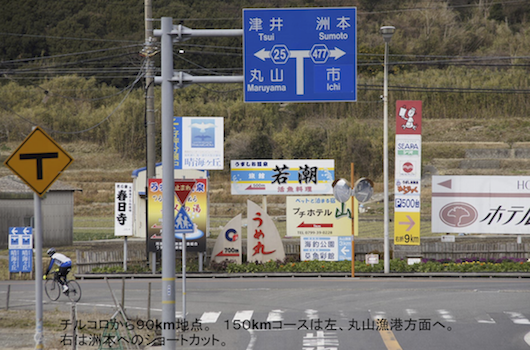 "Pass through the village and enjoy the coastal road, with a great view of huge windmill generators on your right side."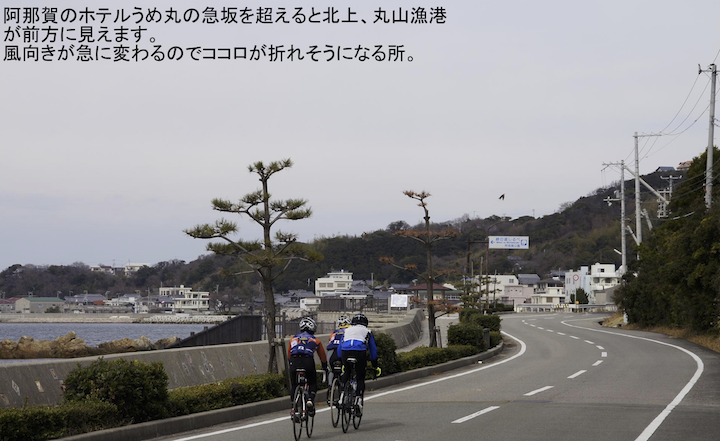 "Then, you will reach a traditional Japanese roof tile factory village area, MINATO Town.""The tiles are famous for their unique dark gray and silver color. You will see their bridge with uses the material.""Go across the bridge into MINATO town"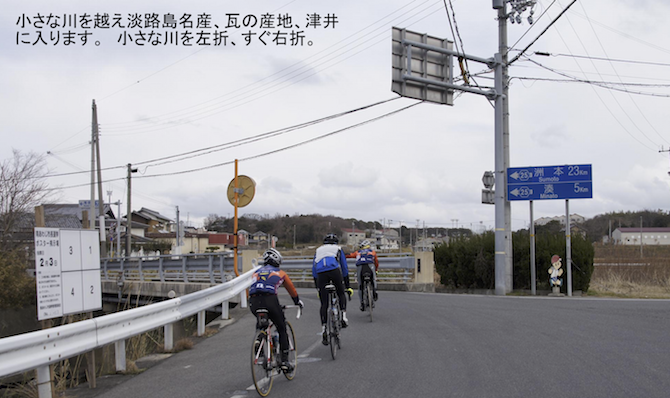 "Pass in front of the small stores"
"Turn right for ""AWAICHI"" route"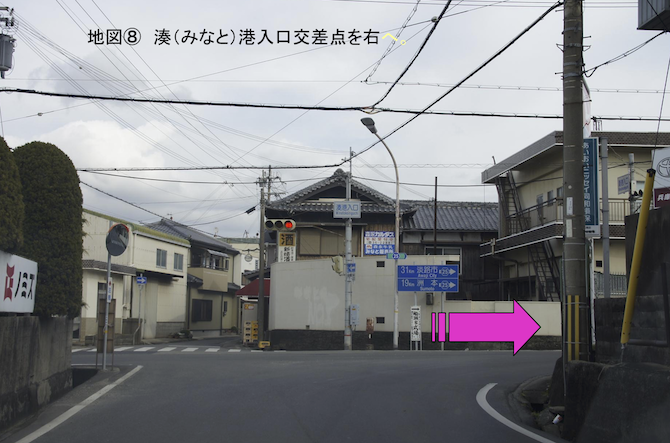 "Passing through MINATO Town, you will soon reach to ""KEINO-MATSUBARA"", a famous beach spot, and continue on Route #31″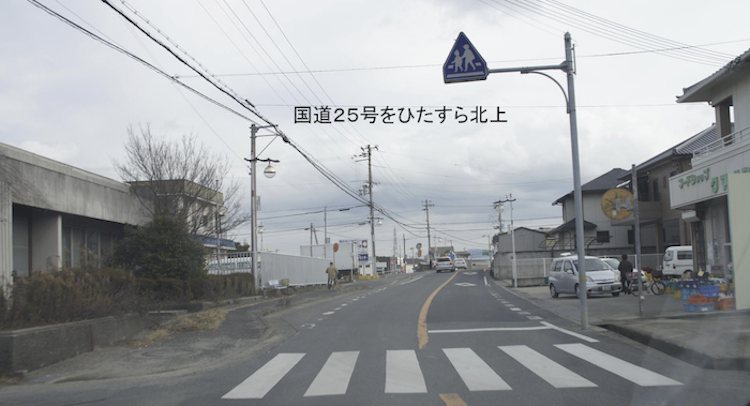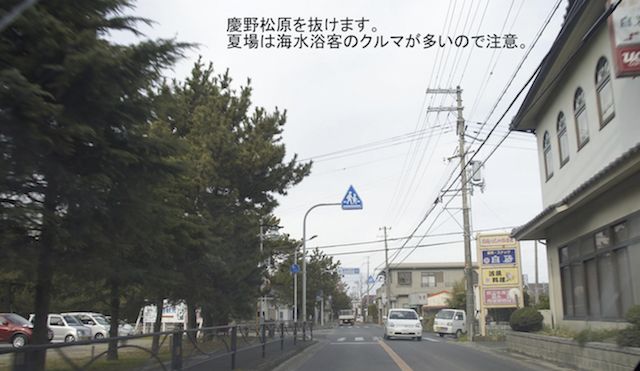 "After this spot, the ""AWAICHI"" route is not so complicated. Just go north ahead to AKASHI Bridge.Pass ""GOSHIKI (Five Color Sand) Beach""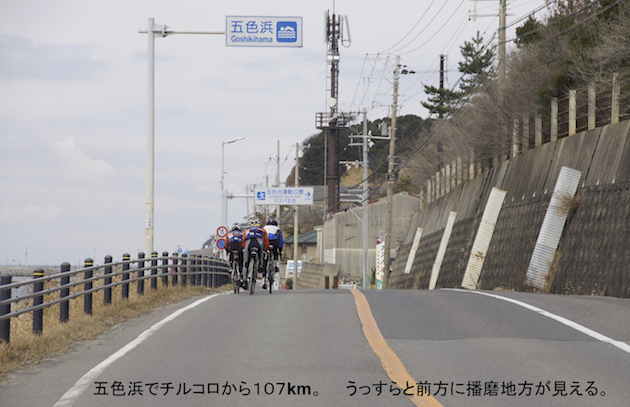 "Pass ""GUNGE"" Town, famous town for incense.
You may get a whiff of good scents during the ride." Also, the town has famous Meat shop "TOUGE" for Local cheap but great eat!!!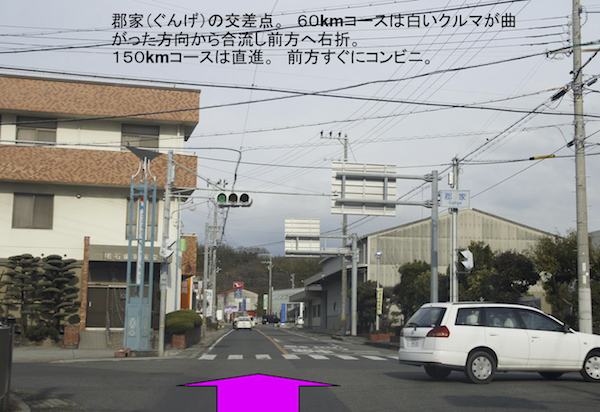 "Turn right for ""AWAICHI"" route"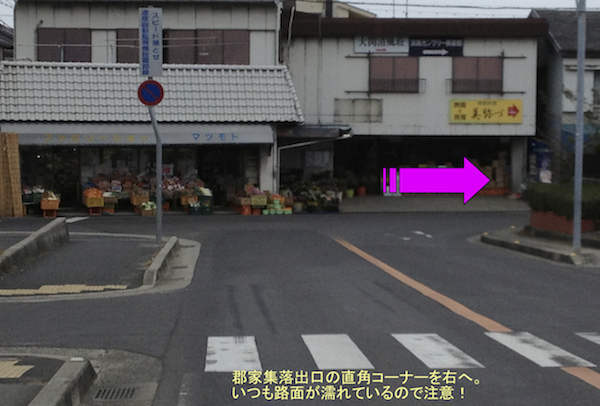 "Pass Awaji High School. Only 20km left until CIRCOLO "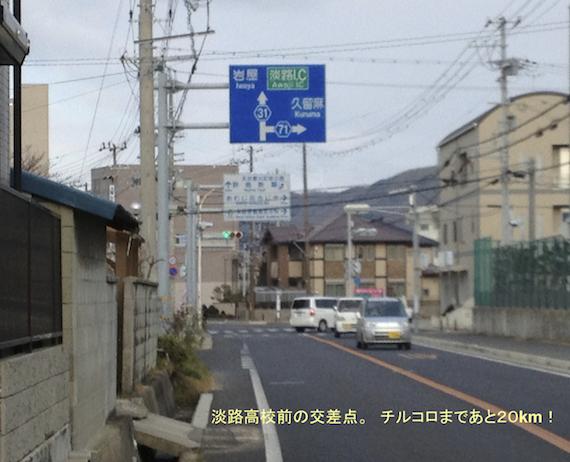 "At this time, you will notice KOBE Town; the main land is getting near.Then, you will see the AKASHI Bridge, looking like the GOAL Gate!
From this point, it is only 10km left to CIRCOLO."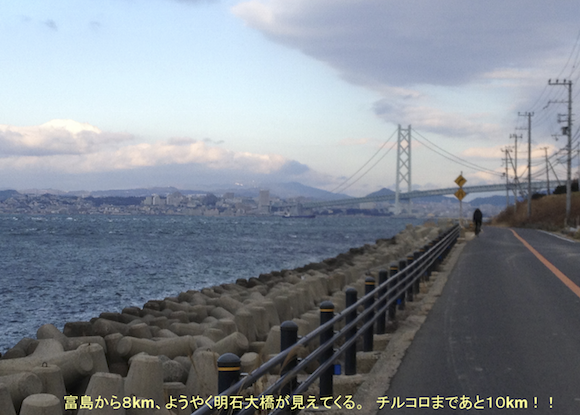 Just along the road, take a cool-down ride until CIRCOLO.
Hope to see you soon and have a safe ride!!!